Community Responsibility
The Yahel Foundation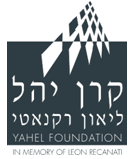 The Yahel Foundation is committed towards narrowing educational, welfare, health and cultural gaps in Israeli society.

Foundation continues a tradition of giving stretching back to the beginning of the 20th century.

Today's Yahel Foundation still reflects the core values of the Recanati family, whose history of giving started with a commitment to the community of Salonika, Greece - even before their arrival in Palestine in 1935.

Under the guidance of Leon Recanati, Chairman of GlenRock, the Yahel Foundation, aims to narrow social gaps by driving social processes and supporting non-profit organizations that advance welfare, health and education.
The foundation is managed by Salit Recanati
Science, Health, and Educational Institutions
Over the years, the Yahel Foundation has been involved – jointly and alone – in establishing and encouraging influential institutions such as:
Today, the Foundation's main focus lies in the following areas: